Continuously striving for quality improvement, VARUN group has adapted innovative advanced technologies and systematic quality control measures in production processes. Right from procurement of quality raw materials, use of state of the art machines, testing equipments and production processes to ensure consistently superior quality products to our customers. We pursue a well defined quality management system that involves proper check of raw material, processing techniques and final testing.

Managed by the technically qualified and competent partners, skilled and trained staff and workers, Varun, successfully keeps track of technological advancement in the field and applies them in the production processes. A strict quality policy is followed during all stages of production. The trained professionals follow the quality policy at various stages as follows

Incoming Raw material Inspection
Each lot of Raw Material is tested at our fully air conditioned In-House Quality Control laboratory with modern techniques of testing by technically trained personnel as per BIS Standards, ensuring quality of the incoming raw material.

In-Process Inspection
Each pipe being manufactured is inspected for its Visual Appearance & Dimensional Properties for ensuring uniformity in Production & Quality.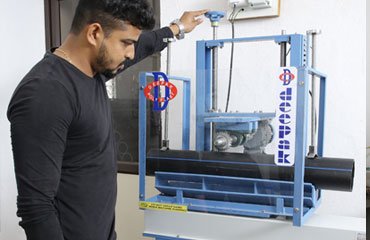 Final Testing
Each Lot of pipes is tested in our In-House Quality Control Lab as per BIS Standards.